Himeji City's Museum of Art, formerly an army warehouse, is a much-loved red brick building, set against the background of Himeji Castle (a National Treasure).
Collection Series "The Transformation of Belgian Art" from the
Symbolist School to Contemporary Art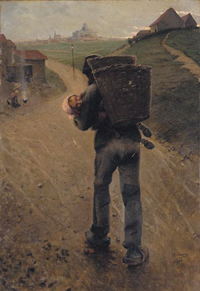 Influenced by developments in many other countries, Belgian art has undergone a unique transformation since the beginning of the 19th Century. The exhibition will illustrate this appeal with the aid of items from the Museum's collection.
DATE:

Oct.31 (Sat.) ~ Dec.13 (Sun.)

FEES:

500yen (Adults) / 300yen (Univ. & hi. sch. stus.) / 200yen (Jr. hi. & elmt. sch. stus.)
Special Planned Exhibition
"Bakufu Ohno and his "The Familiar Fishes of Nippon"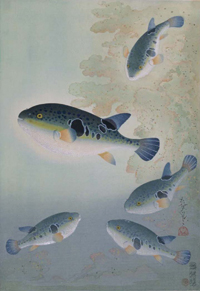 The artist Bakufu Ohno specializes in Japanese-style paintings of fish. "The Familiar Fishes of Nippon" (a collection of woodblock prints of fish, for which he drew the original pictures), is a highly-regarded collection of woodblock print masterpieces. The exhibition employs 72 works from this collection to illustrate the appeal of Ohno's work.
DATE:

Feb.6 (Sat.) ~ Mar.7 (Sun.), 2010

FEES:

800yen (Adults) / 500yen (Univ. & hi. sch. stus.) / 200yen (Jr. hi. & elmt. sch. stus.)
HOUR:

10:00 ~ 17:00 (Enter by 16:30)

CLOSED:

Mondays (Closed on Tue. if Mon. is a holiday), Dec.24 ~ Jan.5

ACCESS:

20-min. walk from Himeji Stn. on the JR and Sanyo Line. (adjacent to the Himeji Castle), "Himeyama Koen-minami/Iryou Center/Bijutsukan mae" stop on Shinki Bus (Lines 3, 4, 61, 62, 64 or 81) (7 minutes).
Himeji Castle loop bus service available every day.(100yen)