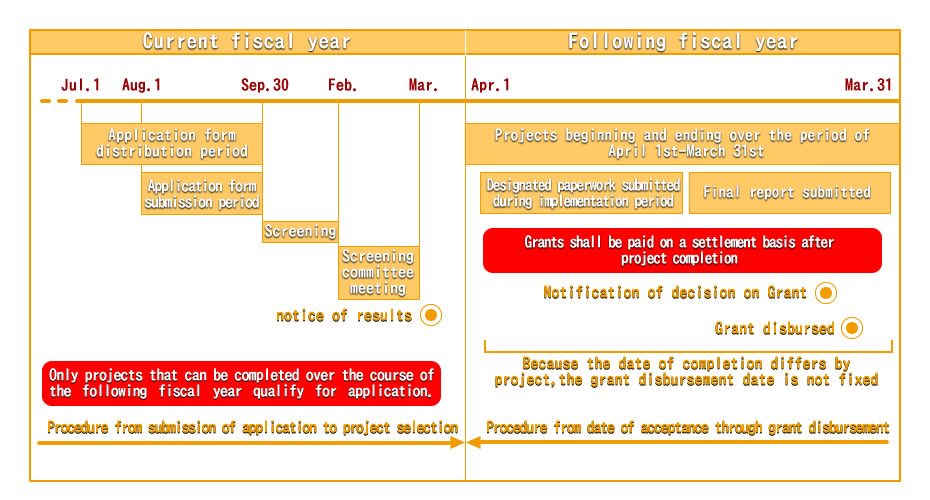 1 Guidelines for application and grant application form
The application documents are available from July 1st every year (confirmation is needed for this date).
The projects should be implemented and completed within one year from April 1st of the following year. The application documents can be downloaded from the Association's website.

2 Period of acceptance of applications
Applications are accepted between August 1st and September 30th. Application documents should be delivered via international mail, etc.
When you submit your application documents, you need to submit separately a copy of the application form along with the "Notice to Inform Completion of Application" to the local Embassy or Consulate General of Japan in accordance with the procedure described in the "Guidelines for Application."
Applications not submitted within the period cannot be accepted under any circumstances.

3 Decision on the Grant
All of the applicant organizations will be notified of the results of the screening in writing in March of the following year.

4 Procedures required during project implementation
The organizations that received a "Notice of Decision on Grant" need to submit any relevant documents such as reports to the Association if any procedure will be carried out before completion of the project.

5 Submission of "Report on Completion of Project"
The organizations need to submit a "Report on Completion of Project" within one month from the date of completion of the project (final date of the payment for the grant-eligible project expenses).

6 Determination of amount of the Grant
The Association will review the project based on the "Report on Completion of Project" and determine the amount of the Grant. The organizations will receive a "Notice of Final Determination on Grant."

7 Payment of the grant money
The Association will transfer the grant money to the bank account designated by the organizations on the scheduled date of payment stated in the "Notice of Final Determination on Grant."