2
The spirit of Osaka
From an ancient times, Osaka has opened its gate to the main continent of Asia, played a central figure for the industry as well as culture of Japan. Osaka was also called as "Shogun's kitchen" boosting its fame and every wonderful foods and products were coming from everywhere, thus established such a prosperous era that people called Osaka as "Oh-Osaka (big Osaka).
The marchants of Osaka, with their strong background of financial means, has flourished its unique culture called "Kamikata culture" and that free-spirited power were no way to be succumbed by the authorities at that time, and so started their own view of journalism in the city.
That newspaper was called "Kokkei-Shinbum (Cynical Newspaper)" Published by Miyatake Tokotsu on 25th January, 1901 (Meiji 34) in Osaka. It was a bi-monthly magazine-like paper (A4 size, 20 pages), satirizing cynically the authorities at the time such as judges, prosecutors, congressmen, monks, unscrupulous merchants, etc., (help the poor and punish the bad-ones) They used a pen as a sword to reveal the fraud Ads or extortions with a plenty of cartoons. People loved this newspaper and at its peak, they published 80,000 copies.
I didn't know about that much. I just passed by the small gallery in Doyamacho called "Waiart gallery", a picture caught my eyes, so I went inside the shop and there were a lot of postcards exhibiting in the shop. They were all so funny, bold, sensitive, cute and the painting colors were so retro and looking at those old yellowish-papers, they were just so attractive!
Those postcards were used as a promotion for the newspaper,They made and sold 26 books of 30 postcard collections from May 1907 to June 1909.
A total of 780 postcards are expressing humorously the culture of Meiji-era and it was so popular among people at that time. Some of the painters are unknown but it became so famous in oversea as well and 629 postcards are owned by Boston museum. I loved them and even they were neatly kept in a frame, the price was very reasonable, so I decided to buy 10 postcards.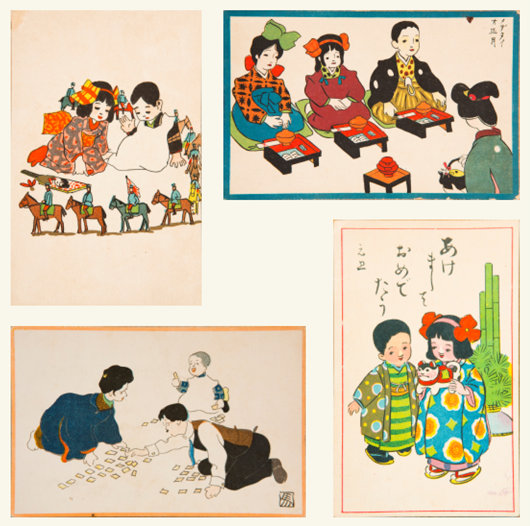 Those collections were written as 1908, so its 110 years ago. Those cute children's new year cards can make us imagine the old times. The soldiers are marching, and how they used to celebrate the new year with a whole family in a special Kimono, sitting solemnly in front of jet-black knee-high table. On a corner of the card says "New year is auspicious" and it looks like mother is in a black kimono, preparing for Toso-sake. At that time, some days such as new year were so special and clearly distinguished with any other ordinary days of the year. Especially the new year was utterly special day of the year, we had to clean up every corner of the house to invite the new year god to our house. It was such a joy to celebrate the new year!
When I was a little girl, I used to love when we open the Jyubako-box that our whole family gathered to make every "auspicious" foods in it. We were so excited and delightful as we opened the box! Let's see what is inside of the box in the postcard? I love eggs and I love "Date-maki roll eggs" The reason why this rolled egg was called Date-maki (roll) is that when Samurai Date Masamune went to enter the Edo castle, he was wearing such a gorgeous Kimono with cotton, and his obi-belt was so thick, wrapped around him. So this egg-roll means gorgeous like Samurai Date. At that time the egg and sugar was such a delicacy and expensive, so Date-roll must be such a treat! It used to take a long time to prepare this egg-roll, mixing and griding egg and white fish altogether, but now thanks to the food processor, its much easier to make it!
I will show you other artworks.
Datemaki-egg rolls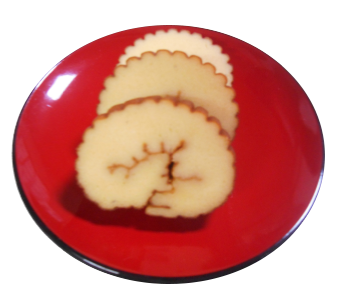 Ingredients

| | |
| --- | --- |
| Eggs | 6 |
| Hanpen (Boiled flat fish cake) | 100g |
| Dashi | 2 Tbs |
| Sugar | 4 Tbs |
| Mirin | 6 Tbs |
| Salt | a pinch |
| Soy sauce | a pinch |
| Cooking oil | |

【How to make it】

| | |
| --- | --- |
| 1. | Put all of the ingredients in the food processor. |
| 2. | Put the iron mold in heat, with a lot of oil and when hot, pour egg-based liquid onto it and cook it until brown. |
| 3. | Bake it for 10 min. in an oven for 160℃, then turn to 200℃ for 5 more minutes until golden brown. |
| 4. | Roll with Makisu screen, make a nice shape and cool it down. |

Aiko TanakaProfile
Osaka Shoin Women's University, professor
World Home-Cooking Specialist
Cooking book author
Edible Herb Garden Association, Chairman
Association of Japanese Cuisine for Future, Chairman
Born in 1949, in Osaka, Japan. Graduated Osaka Shoin Women's University, majored in English Literature. After marriage with an entrepreneur and raised a boy and a girl, Aiko Tanaka entered and apprenticeship to Ms. Yoshioka Akiko, cuisine specialist, to master basic home-cooking and as well to be an expert in "Foods"
In 1987, Her husband opened a high-end Japanese Restaurant in the 5th. Avenue, New York City. Due for her husband's business in New York City, Italy, Australia, Tasmanian Islands, Hong Kong, Korea, etc. she helped and promoted many party arrangements in various places.
She had acquired many valuable experience in overseas and as a fruition of her work she published her first book "Good Gathering From New York" in 2001. Soon after she started to appear on TV, magazines, medias as a cooking expert. As a part of food study activities, she promotes "Philosophy On The Table" (Food study) theory. In 2014, as a professor at Osaka Shoin Women's University, she had established "Food Study" course, and is very first in Japan nationwide. In 2016, at Food Study Conference in USA and Toronto, Canada, she lectured about the crisis in Japanese cuisine and was highly recognized and appreciated. In order to expand Japanese cuisine, she tirelessly does many cooking classes and seminars in Japan and all over the world. She has written many books such as "Tasty and Fun Good Gathering From New York" (Bunka Shuppansha, Co.,Ltd.) "Japanese Cuisine Gathering"(Asahiya Shoten.Co.,Ltd.) and her recent launch is "Philosophy On The Table" (Asahiya Publishing, Co.,ltd.)