The Museum of Kyoto is a comprehensive cultural facility whose purpose is simply to introduce the history and culture of Kyoto. In addition to an exhibition of historic Kyoto using mockups and films, arts and crafts closely associated with the city are displayed in the Crafts Room. Masterpieces of the cinema are screened in the Film Room. The museum annex was formerly the Kyoto Branch of the Bank of Japan. As representative of the Western-style buildings that were constructed in Japan during the Meiji Period, it has been designated as the national important cultural asset.
Special Exhibition
"The Arts of Ainu : The World Which Creates with Kamuy"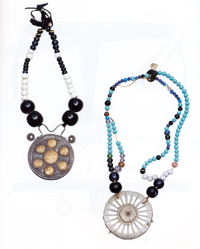 There is an increasingly active interest both in the Ainu culture, which is closely involved with nature. This interest may be exemplified by an application to register classical Ainu dancing a world intangible cultural asset. This exhibition explores the essence of the refinement of Ainu culture through the medium of works representing the cultural life and figurative beauty of the Ainu people, as well as of their "Kamuy" , or deities. The exhibits include works from the collection of the Russian Museum of Ethnography.
DATE:

Nov.23 (Mon./Hol.), 2009 ~ Jan.11 (Mon./Hol.), 2010

FEES:

1,000yen (Adults) / 700yen (Univ. &hi. sch. stus.) / 400yen (Jr. hi & elmt. sch. Stus. )
Special Exhibition
"The Legacy of CARTHAGE - A Journey Across the Mediterranean"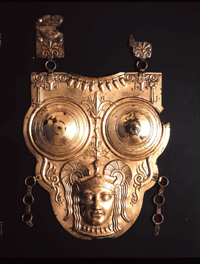 The ancient Mediterranean races were the source of European civilization. From around 1500 B.C. the city-state of Carthage prospered as a transit spot for the Mediterranean trade and a center of Roman art. The exhibition features archaeological exhibits excavated from the site of Carthage and currently housed in the Tunisian National Museum. There are two sections: "Carthage and the Mediterranean World" and "Roman Art and Mosaic" .
DATE:

Feb.11 (Thu./Hol.) ~ Apr.4 (Sun.), 2010

FEES:

1,300yen (Adults) / 900yen (Univ. &hi. sch. stus.) / 600yen (Jr. hi & elmt. sch. Stus. )
HOUR:

10:00 ~ 19:30 ( ~ 18:00 ( ~ 19:30 on Fri.) for special exhibitions)
(Enter by 30 min. before closing)

CLOSED:

Mondays (Closed on Tue. if Mon. is a holiday.), Dec.28 ~ Jan.3

ACCESS:

3-min. walk east along Sanjo Street from Karasuma-Oike Stn. on the Kyoto City Subway from Kyoto Stn. on the JR Kyoto Line,
7-min. walk north along Takakura Street from Karasuma Stn. on the Hankyu Line, 15-min. walk west along Sanjo Street from Sanjo Stn. on the Keihan Line